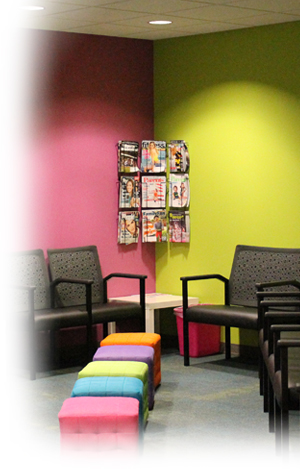 Long time patients and families will remember our office starting out on the other side of the building in Suite 1A. It was a dark space, cramped and not very patient friendly. During the Winter, Spring and Summer of 2014, renovations occurred on Suite 3 in our building and we finally moved in July, 2014. This new space, Suite 3, was larger and much brighter (thank you windows!!!!) However, this space quickly became cramped as we added a 3rd and then a 4th hygienist and finally another dentist. Sooooooo.....during the Fall of 2017 we started expanding, AGAIN. The expansion will be completed early in 2018. We will still be in Suite 3, but we will also be in our old space, Suite 1A AND Suite 2. The eye doctor who was next door moved out and we moved in (or technically, over). The waiting room is larger, we will have a separate business area and many new themed rooms for patients!
We have four beautiful hygiene rooms decorated in fun themes: Monsters Inc./Monsters University, Mario/Luigi/video games, Minions (Despicable Me) and Cars!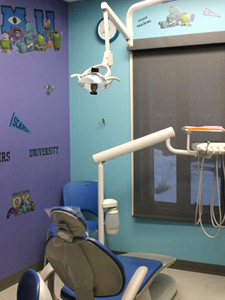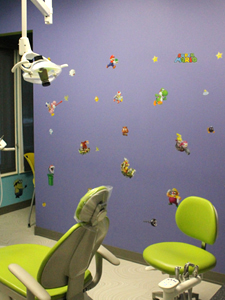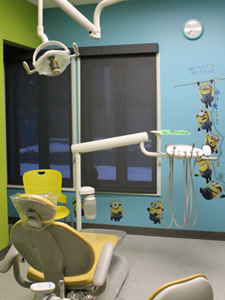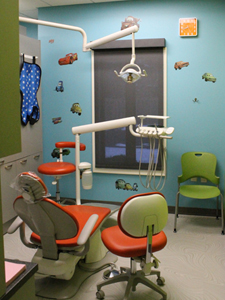 We have three operative rooms with the following themes: Nemo, Toy Story and Frozen!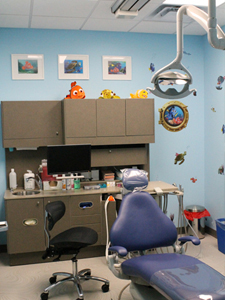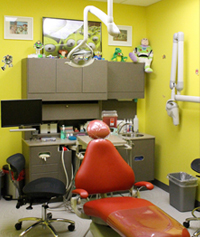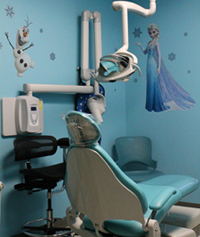 Stay tuned for new pictures and theme up updates!
Our office is almost completely paperless and digital. You can find a link to our FORMS for new patient information. This helps keep your wait time down in our office for that first visit, and also helps keep our postage costs down. In the future we are hoping to place this paperwork on a tablet or even in a kiosk in our waiting room so that we can be completely paperless! Our goal is to make sure your child has a spectacular visit with minimal paperwork! Our radiographs are digital. With digital x-rays, there is no wait for the film to develop and there is no way to lose the films: it is stored in the patient's digital record. Also, much less radiation is emitted. Taking four images emits as much radiation as taking a cross-country flight or spending two days in Denver!
In late 2010, along with introducing digital x-rays, we started to use our Isolite system.
The Isolite, which we call the "Squishy Fishy" allows fillings and sealants to be completed in almost half the time - perfect for little ones with limited attention spans! This is a really neat gadget that not only helps Dr. Melissa and her dental team, but your child will enjoy the benefits too! It is a one time used piece of silicone that helps to keep the child's mouth open, retracting the cheek and tongue, suctions spit and also lights up! Your child can breathe, swallow and relax as his or her dental treatment is completed. We recognize that one of the hardest parts of getting a filling for the patient is staying open, and for a filling to be 100% perfect, the mouth has to stay perfectly dry. The Squishy Fishy keeps the mouth dry and the patient can swallow underneath it. Here you can see Katie demonstrating how it looks and feels. We know it looks a little different than anything you may be used to. Trust us. 95% of our patients prefer the squishy fishy over the alternative (using dozens of cotton rolls, using suctions, holding the tongue, cheeks and lips back with hard metal retractors). It also allows us to complete the filling twice as fast! What used to take us 30 minutes now takes only 15!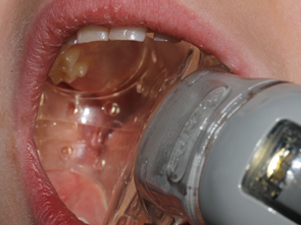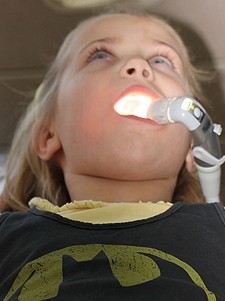 Some patients who come to the office may need something to combat dental anxiety or may require minimal sedation. We use nitrous oxide sedation. This has been commonly referred to laughing gas. We sometimes refer to it as astronaut air. Additionally, it can sometimes be used the place of local anesthetic (no numbing)!
Nitrous oxide is a safe and effective way to calm a patient, and can be used on patients of any age: toddlers to those who drive, as they can drive home afterwards. Nitrous oxide is inhaled, and is completely out of the body (therefore all effects are gone) in 2-5 minutes after it is turned off. There are only 2 main contraindications: patients with glaucoma cannot use it, and please do not eat the world's largest meal prior to using it. In some patients, it can cause mild nausea (similar to mild motion sickness). If a child does have an episode of nausea, it will occur in the office. Please keep in mind that although it is beneficial in many cases, nitrous oxide is not 100% effective in all cases. There are still patients who require deeper levels of sedation. These tend to be any child with special needs, very young children, and for those patients with severe anxiety.
The equipment used in nitrous oxide sedation can sometimes be a deterrent for young children: they fear the 'nose' will make them go to sleep or will in some way hurt them. Below you will see a picture of Katie, at age 7, wearing the nitrous nose. It only covers her nose, not her mouth or eyes. She can breathe normal and can see everything she wants to.
There are different sizes of the noses to fit roughly all patients.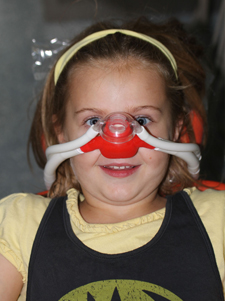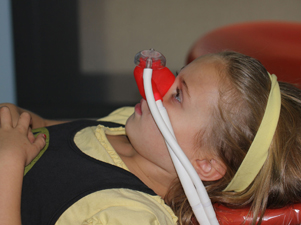 Even then, there are some patients who need further help to relax and get their dental needs taken care of. Dr. Melissa and Dr. Browne go to Akron Children's Hospital, Mahoning Valley and the Surgical Hospital at Southwoods on a very regular basis to perform the needed dental work while the children are under general anesthesia. She does the same procedures there that she does in the office, but it is all completed in a 45-90 min appointment, as opposed to multiple visits in the office. If your child needs or you prefer this route, we will be happy to discuss this with you. Dr. Melissa performs approximately 30 surgeries per month.